We are Scottsdale, Arizona's Top Rated Tree Service & Tree Removal Company
Scottsdale Tree Trimmers is equipped to remove any tree large or small.  Our skill, experience, and equipment allow us to work efficiently and safely, removing the largest trees with aerial devices and cranes, to complex rigging in tight work areas.
Trees are many times planted without regard to mature tree size and become too large for their location, other times they may have died due to disease or other problems in which tree removal is necessary for safety concerns.  Whatever the situation may be, our experienced tree professionals are ready to tackle your difficult or dangerous project, while keeping safety and property protection as our top priority.
We encourage our customers to check out our top rating with the Better Business Bureau, not to mention that our employees are protected with Workman's Compensation Insurance, and our company carries $2 Million Liability Insurance, so that all of your property is protected.  We have been removing trees in Scottsdale for many years, and our Certified Arborists have the knowledge and expertise to tackle projects such as difficult or dangerous tree removal jobs.  Our company provides our employees with ongoing training and safety meetings, to ensure that your tree removal project is done safely and precise.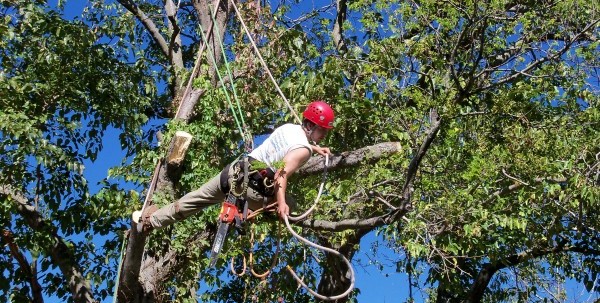 Scottsdale, Arizona's Top Tree Removal Professionals
When it comes to tree removal in Scottsdale, experience matters.  Our experienced tree trimmers have been removing Scottsdale trees for over two decades, along with a spotless safety record.  Reasons to hire our company include:
-"A" Rating with the Better Business Bureau
-$2 Million Liability Insurance to protect your property
-Workman's Compensation Insurance, to protect our employees as well as our customers.
-Full-Service Tree Company, providing all of your tree care needs.
-Experienced, Professional, Courteous and Caring employees to perform your project safely & accurately.
Each service we provide is offered at Scottsdale's most competitive prices. We are dedicated to our low cost guarantee by offering you free, no-obligation tree service estimates! Whether you have a residential or commercial job at hand, we are Scottsdale, Arizona's best choice when it comes to affordable and expert tree services!
Free Estimates + 25% Discount for New Customers!
If you are looking for a reputable, reliable and professional Scottsdale tree trimming and removal company and are in need of tree trimming services at a great price, please call us today at (480) 435-2226 for a fast and free estimate! In addition, all new customers receive a 25% discount off your first project with us!