Scottsdale Tree Trimming Service + More
Tree trimming can improve the health, safety and appearance of your trees, and can add value to your property. We care for your trees as if they were our own, and will offer professional opinions and expert advice on your tree's situation prior to beginning any work.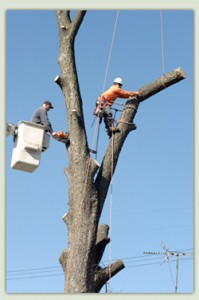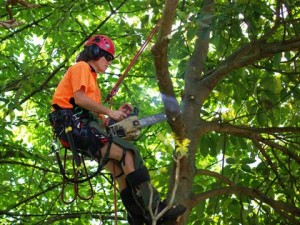 One of our experienced Arborists will inspect your trees carefully, looking for cross branches, heavy end-tip weight, broken structural leader branches, and inspecting for hidden surface roots that may be at risk for causing damage to nearby foundations, in addition to offering advice on the tree service requested by the customer.
After a proper assessment has been made by our Arborists, we'll get to work. We'll use professional equipment and proper tree pruning techniques as we work.
We will complete the work in a quick and safe manner, making sure to protect any plants or yard ornaments that may be nearby. After the job is completed, we'll haul away all debris, perform a comprehensive cleanup, and ensure that our customer is satisfied with the project.
Beware of Inexperienced Tree Trimming Companies!
It is important for homeowners to beware of hiring an inexperienced tree service company servicing the Scottsdale area because of the many problems that can occur by hiring the lowest bidder for the job; improper pruning can cause damage that will last for the life of the tree, or worse, shorten the tree's life. An inexperienced tree worker may leave "cross" branches that can open the tree up to air-borne disease and infection, or an inexperienced tree trimmer may advise the wrong type of pruning for your trees, which can permanently alter your tree's structure. At Scottsdale Tree Trimmers, we have Certified Arborists on staff to provide expert advice and recommendations for your particular tree's situation, and to recommend the type of pruning necessary for your specific trees. And even better, our consultations are free of charge!
Complete Tree Services For Residents of Scottsdale
Scottsdale Tree Trimmers is a full-service tree company, and services we offer include:
Tree Trimming & Pruning (including Crown Thinning, Crown Cleaning, Crown Reduction, Canopy Raise, Perimeter Trimming, and using Proper Pruning methods).
Tree Removal (difficult & dangerous removals are our specialty!)
Stump Grinding (no matter the size of your stumps, no job is too large!)
Cactus Removal (we are one of the few companies in Scottsdale offering cactus removal services)
24-Hour Emergency Service (storm damage, downed trees, broken branches, no matter the situation, our Arborists are ready for your Emergency!)
Free Estimates + 25% Discount for New Customers!
If you are looking for a reputable, reliable and professional Scottsdale tree trimming and removal company and are in need of tree trimming services at a great price, please call us today at (480) 435-2226 for a fast and free estimate! In addition, all new customers receive a 25% discount off your first project with us!